Apply Triangle
Apply Triangle is a NYC-based electroacoustic trio that utilizes technology to curate engaging performances that evolve and expand the repertoire for flutes, clarinets, and piano. Our music utilizes live electronics like video projection, lighting elements and audio playback, as well as amplifying and processing each of our acoustic instruments in real time to bring a multimedia experience to our audiences and push the boundaries of live chamber music.
Apply Triangle is dedicated to collaborating with and performing music by emerging composers whose work addresses the modern political, social, and environmental issues we face as a society today. Some of our current collaborations explore the topics of deforestation, mental health and anxiety, and the fight for women's equality and LGBTQIA rights. We maintain an open-door policy for our collaborations, inviting composers and other artists into our rehearsals to workshop and discuss the musical and technological capabilities for new electroacoustic chamber works.
This past year, Apply Triangle made our international debut at the SinusTon Electronic Music Festival in Magdeburg, Germany in October, premiering three new works by New York composers James Diaz, Alex Held, and Pranav Datla, along with a variety of standard electroacoustic solos for each of our instruments. We brought our program, titled New York Counterpoint, to music conservatories in Dresden, Weimar, and Leipzig where we also engaged with many of the students in discussions on the use of technology within contemporary music during several workshop performances. We also collaborated with violinist and composer Yaz Lancaster on their new work intangible landscapes premiered at the 2020 NYU Pulsing and Shaking Macro Festival.
Apply Triangle's 2020 season will focus on our first Call for Scores to collaborate with composers around the world on short electroacoustic works which we will record in our homes and release as a series of albums throughout the year. Future projects include performances at the Greenlight New Music Festival in Duluth, MN and at Spectrum in NYC, featuring premieres of new works by J. Paul Bourque, Lydia Chang, Dan Antoniu, Marisa Tornello, Lily Shababi and others.
YOSHI WEINBERG - FLUTES
Pronouns: They/Them/Their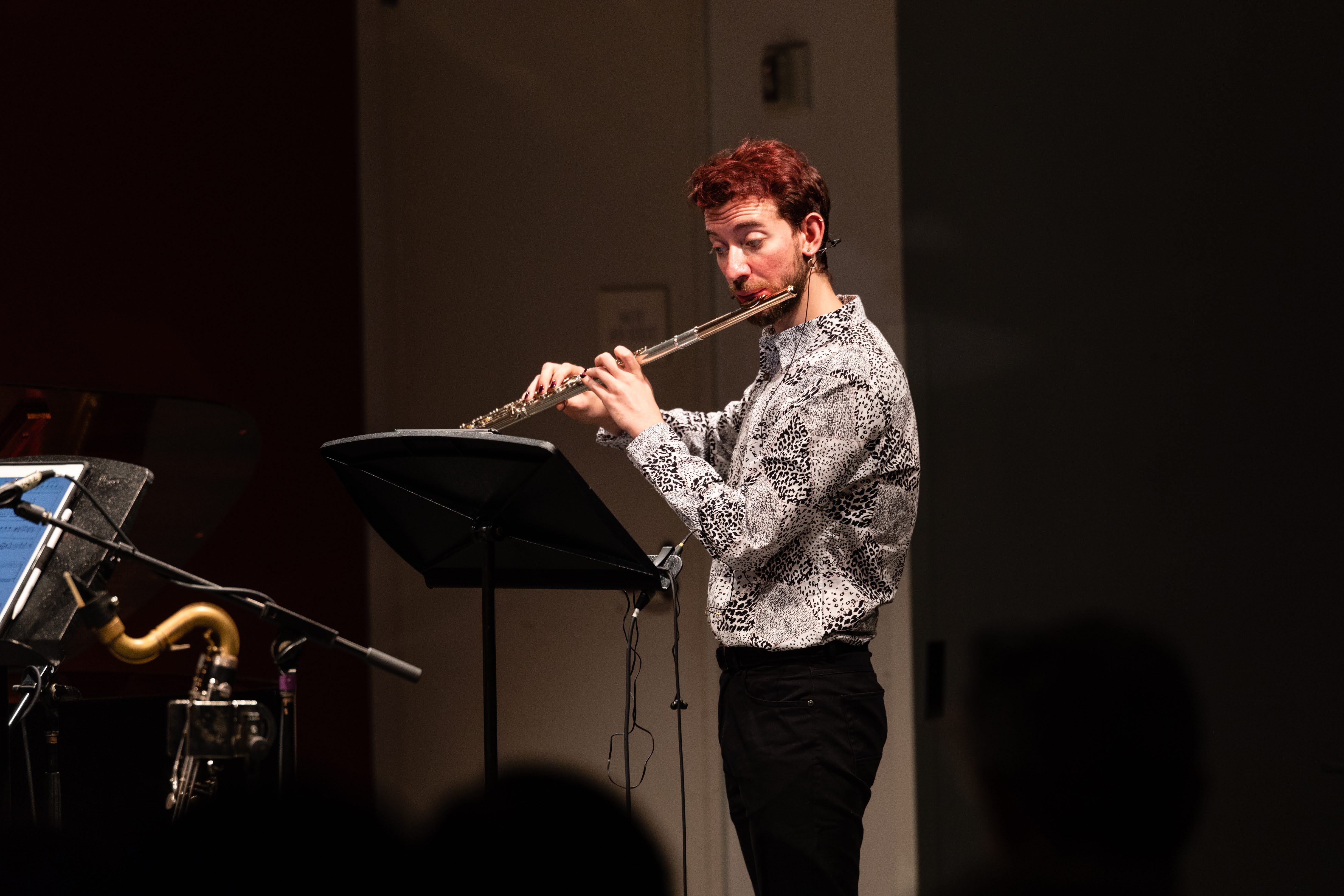 Yoshi Weinberg is an expressive and dynamic flutist, composer, and collaborator based in New York City. Yoshi is Artistic Director of InfraSound, where they curate diverse and accessible programming for all of InfraSound's concerts and outreach performances, rehearses the ensemble, connects with potential performance venues and collaborators, and works closely with the Executive Director promoting and acting on InfraSound's mission. Yoshi previously held the Artistic Director position with RenegadeEnsemble, a Minneapolis-based new music ensemble.
---
Yoshi has performed nationally and internationally, including the European premiere of Sato Matsui's flute sonata in Paris, a concert tour of world premieres through Germany with Apply Triangle, and concert performances in the U.S., Canada, Spain, Italy, and France. As a composer, their works have been described by colleagues as "lyrical, poetic, dramatic, and expressive." Their music weaves narratives with sound and they use poetry and literature to influence and structure their compositions. Yoshi's works have been premiered in the U.S. and Canada, by e(L)ement duo, InfraSound, soprano Shannyn Rinker, RenegadeEnsemble, the dream songs project, vocalist Michael Betz, and flutist Catherine Ramirez. Yoshi received their B.M. in Flute Performance from Saint Olaf College, and their M.M. in Contemporary Performance from Manhattan School of Music studying with Dr. Tara O'Connor. Yoshi currently performs as flutist with InfraSound, Apply Triangle, Tactus, and KnoxTrio. Past teachers include Michele Frisch (Principal Flute of the MN Opera Orchestra), Dr. Catherine Ramirez (Artist-in-Residence, Saint Olaf College), and Patricia George (editor of FluteTalk).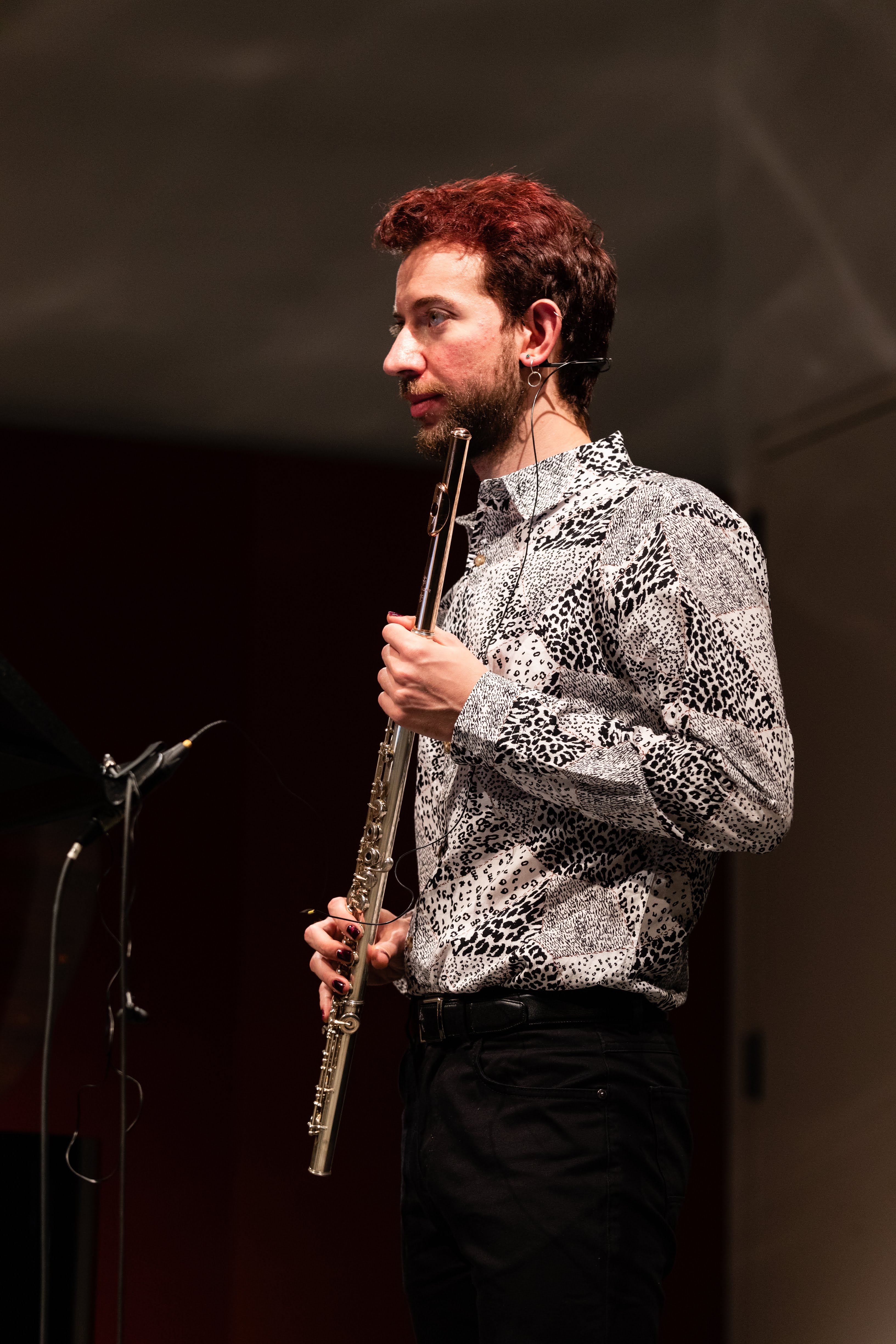 TYLER NEIDERMAYER - CLARINETS
Pronouns: He/Him/His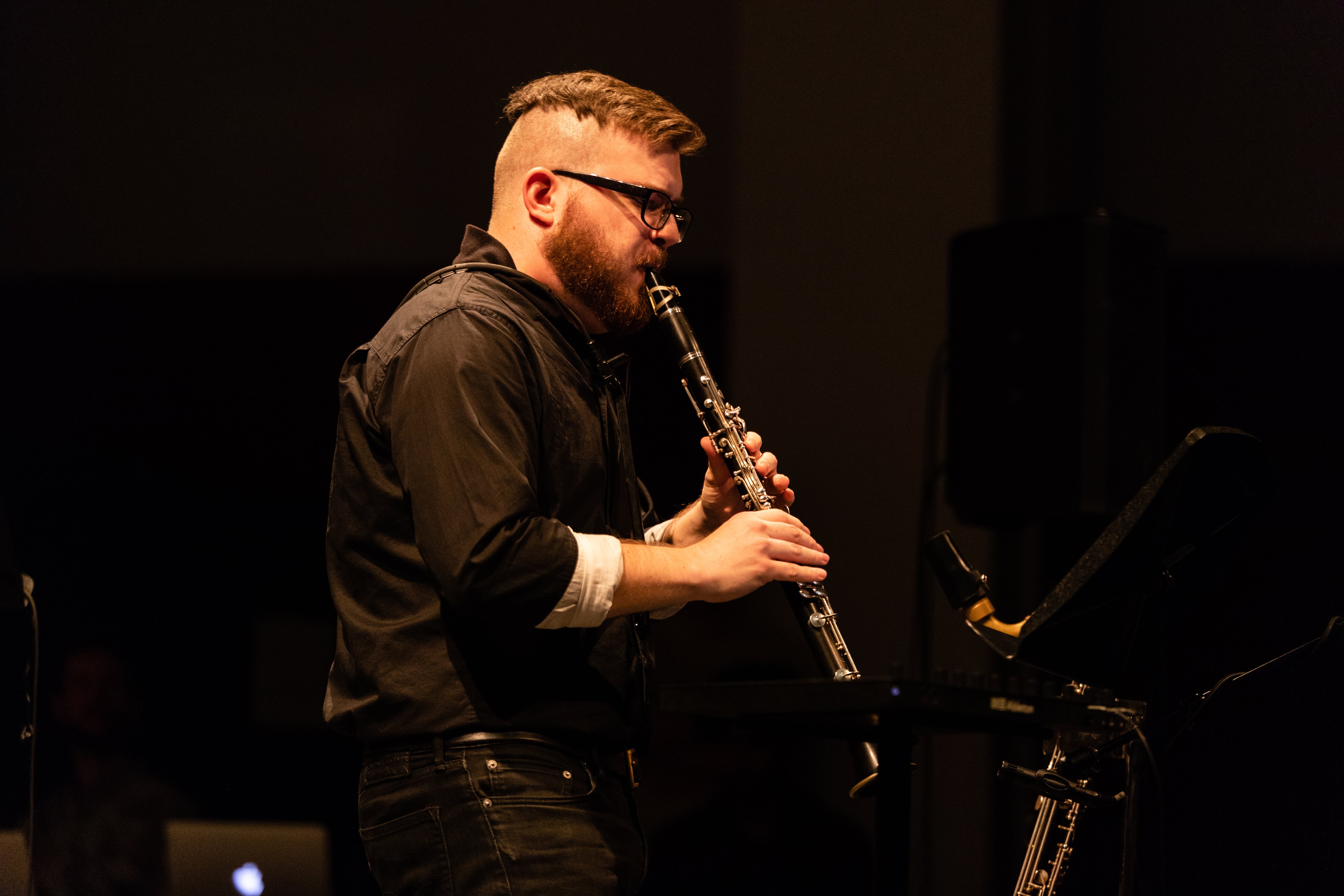 Tyler Neidermayer is an experimental bass clarinetist, electronic musician, and composer in NYC dedicated to consistently presenting new works for clarinet, bass clarinet and live electronics. He performs with and manages live sound/tech for Apply Triangle, Quintilia, InfraSound and Blackbox Ensemble. Tyler's compositions focus on live manipulation and processing of acoustic sound to develop new textural ideas that inform the player's musical decisions. He has been a featured performer at the Nief-Norf Summer Music Festival, NYU Pulsing & Shaking Festival, and the Oh My Ears New Music Festival.
---
Tyler plans to release his self-produced debut album later this year featuring new works that he has collaborated on with emerging composers. Other future projects include a residency at Yellow Barn for Susan Botti's River Spirits, recording and releasing a collection of new electroacoustic works with Apply Triangle, and collaborating with Donivan Berube on his forthcoming record. He holds a M.M. in contemporary performance from Manhattan School of Music, studying bass clarinet with David Krakauer and Michael Lowenstern and holds a B.M. from Northern Arizona University where he studied clarinet with Cris Inguanti and composition with Bruce Reiprich.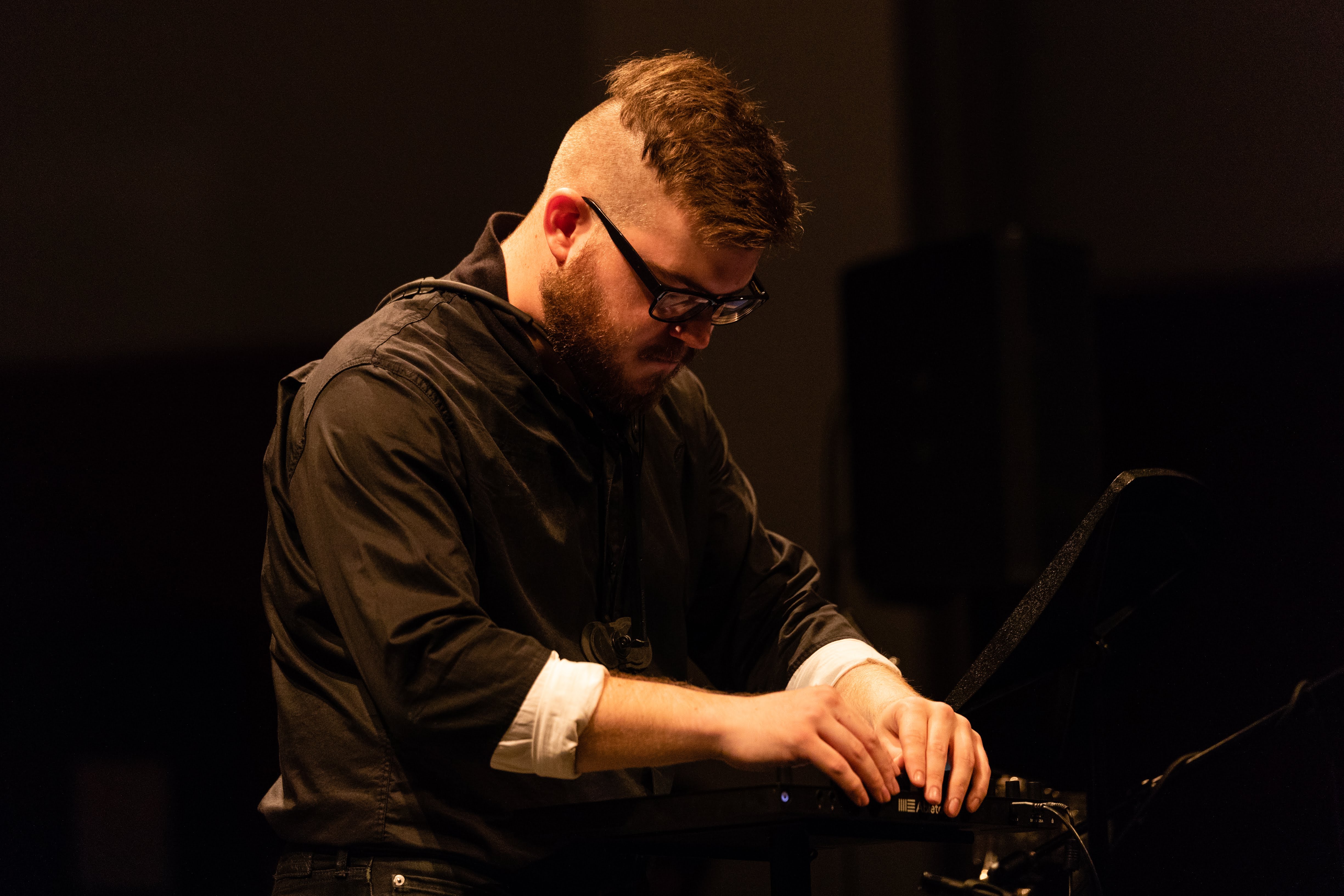 JIXUE YANG - PIANO
Pronouns: She/Her/Her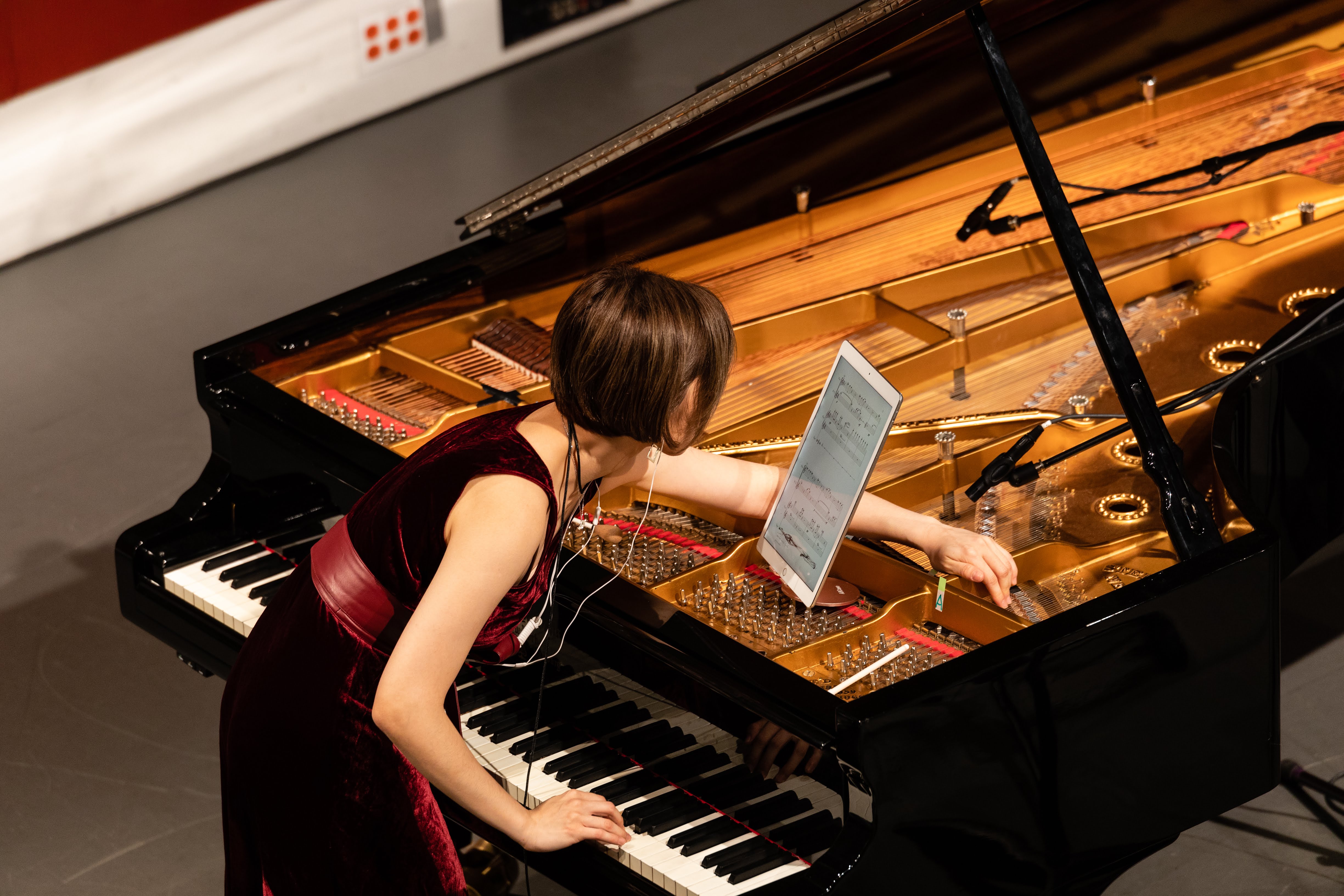 Jixue Yang is a NYC-based contemporary classical pianist originally from Fuzhou, China. As the first Chinese citizen in the Contemporary Performance Program at Manhattan School of Music, she has been introducing experimental contemporary music to Chinese audiences back home. From early Baroque to the present, Jixue's repertoire has a wide range of periods and styles that form her unique musical language through the combination of Eastern and Western music. Indulging in contemporary art, literature and philosophy, she creates music that combines the beauty of speculative ideas and advanced technologies while striving for cultural inclusivity.
---
Jixue developed her strong training in classical music at the Middle School Attached to the Central Conservatory of Music in Beijing and later at Walnut Hill School for the Arts in Natick, MA. Jixue has performed both as a soloist and a chamber musician in Boston, New York, Knoxville, Shanghai, Wuhan, Beijing, Zhangzhou, and Fuzhou while currently performing as the pianist/keyboardist for Apply Triangle, InfraSound, and Blackbox Ensemble. Jixue's past teachers include Hung Kuan Chen, Margaret Kampmeier, Phillip Kawin, Anthony de Mare, Solomon Mikowsky, Christopher Oldfather, and Inesa Sinkevych. Jixue holds a B.M. and a M.M. from Manhattan School of Music and is currently pursuing her D.M.A. in Piano Performance at MSM.